We define mentoring as a purposeful and personal relationship in which a more experienced person (mentor) provides guidance, feedback, and wisdom to facilitate the growth and development of a less experienced person (mentee). Whether you're hoping to find a mentor or to be a good mentor, we have opportunities for you to get involved and resources to support your mentoring relationship(s) below.
You should also consider if you are in need of a mentor, or for someone to play a different role based on your needs. This chart – showcasing the differences between a mentor, coach, sponsor, accountability partner, wise counselor, and networking contact – can help you identify gaps in your network and in your relationships that you'd like to fill.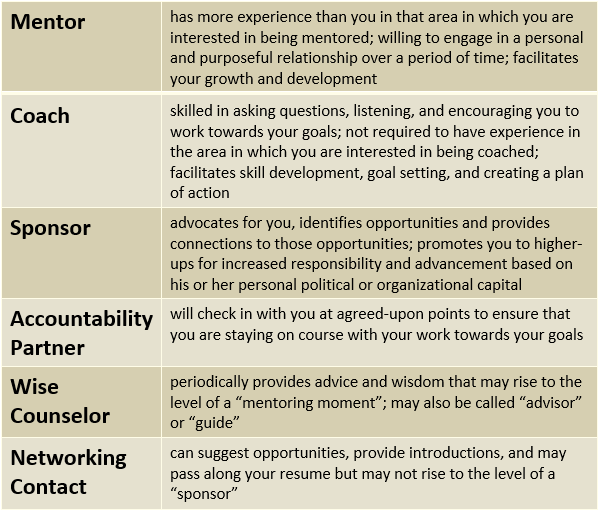 Alumni Mentoring Skills Workshop
In collaboration with WAKECommunity and Affinity Group leaders, we offer mentoring skills workshops about the roles and strategies effective mentors and mentees use in creating supportive developmental relationships for personal and professional growth.
We offer a three-part series into the nuts and bolts of effective mentoring! In the first workshop, we discuss the basic skills of mentoring relationships. In the second workshop, we discover what it means to lead and manage from a place of mentorship. In the third workshop, we unpack the importance of having a network of wise counselors and mentors that provide guidance and feedback for your personal and professional decisions.
Let us know if you are interested in learning more about these workshops! We love being able to bring these mentoring skills to alumni in different locations. Reach out to Megan Bosworth at bosworme@wfu.edu and we can begin a conversation!
How to Find a Mentor
Some questions to ask yourself, before you ask someone to be your mentor: Why do you want them to be your mentor? What are you willing to do, as part of the mentoring relationship? What are your expectations for the mentoring relationship? Be as specific as possible. Only after you have specific answers to these questions should you approach them and ask if they are willing to engage in a formal mentoring relationship with you.
Looking for more information? Check out this guide on Tips for How to Find a Mentor.
Develop Your Mentoring Skill Set
If you are involved in a mentoring relationship, you should have a clear idea of why you're in the relationship and what you would like to get out of it. Whether you are a mentee or mentor, we hope that your experience will allow you to grow, learn, and develop in several specific ways. Check out these Mentoring Learning Outcomes for mentees and mentors, which outline skill sets that you should work to develop during your mentoring relationship, along with strategies for how to achieve each learning goal.