Open Enrollment | *NEW* Year One Online Course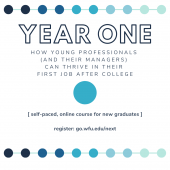 This self-paced course has been designed to accompany the book, Year One: How Young Professionals (And Their Managers) Can Thrive in Their First Job After College. This course includes five modules, with each one containing a Watch, Read, and Do section. Each module connects to specific chapters of the Year One book. While we recommend you get a copy of the book to read along with the course modules, it is not required. By the end of this course, you will have the tools and resources needed to figure out how to navigate work, life, relationships (at work), your personal development, and what comes next.
Open Enrollment | Five For Your First Five Online Course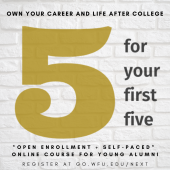 Over five modules you will be introduced to the five key competency areas that we believe all young professionals need to master in their first five years after college; reflect on your values, skills, strengths, and learning goals; identify the people you need to have in your network; and create a plan for what comes next, for you. This self-paced course has been designed to accompany the book, Five For Your First Five: Own Your Career and Life After College, written by Allison E. McWilliams, Assistant Vice President for Mentoring and Alumni Personal & Career Development at Wake Forest University.
Open Enrollment | JUMPSTART: A Job Search Strategy Prep Course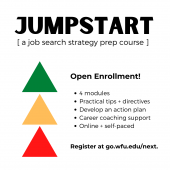 Between endless online applications and emails to networking contacts, the job search can feel like a shot in the dark. But it doesn't have to be! There are effective tools and strategies known to increase success, and in this self-paced online prep course, we'll break down what you need to know for your next job search. At the end of this prep course, you will have clarity on your job search target, a refreshed resume and LinkedIn profile, greater understanding of the strength of your network, and a plan for what's next. This open enrollment prep course is entirely self-paced. You'll have access to all the materials and we won't remove you from the course after you finish.
June 29, 2022 | 12:00-1:30pm EST | Alumni Book Group (Virtual on Zoom)
In this 90-minute conversation, we will discuss two of Adam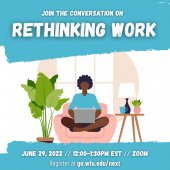 Grant's recent WorkLife podcasts: The Not-So-Great Resignation and Rethinking Flexibility at Work. At this point, how are you thinking about the role of work in your life? What does flexibility mean to you, and what are you willing to do to make it happen? Have you quit a role, or are you considering it? Why or why not? Whether you are a manager, or you have a manager, we'll explore these questions and the questions we should all be asking ourselves and of others, in order to make work, work.
(Virtual) Social Media Series hosted by the WFU School of Business:
May 18, 12:00-12:30pm EST | Up Your Social Media Game in Five Easy Steps: Ginny Bowen Olson (MBA '04), Founder & President of Brand Elements Coaching, will share five easy steps you can take right now to up your social media game. These best practices will apply to Facebook, Instagram, Twitter, and LinkedIn. You'll learn quick tips to increase engagement with your followers and how to showcase your content in a way that fosters interaction.
June 8, 12:00-12:30pm EST | Cleaning Up Your Digital Dirt: Whether you are entering the workforce, making a career transition, or hiring new talent, online presence matters: LinkedIn can get you hired, Facebook can get you fired. Sharron Vogler, Senior Associate Director, Market Readiness & Employment, will share pro tips to help you align your online presence and professional brand.
TBD | Parenting Digital Natives