How do you make the most of your first five years after college both personally and professionally? Five For Your First Five: Own Your Career and Life After College by Allison McWilliams, PhD, explores five key competency areas that you should be focusing on as a young professional. This book provides opportunities to reflect on your life, career path, and the choices that you are and will be making along the way. Get your copy on Amazon here!
Want to engage in broader discussions about the topics within this book? Join our in-person Alumni Mentoring Groups, which will be using Five For Your First Five as the curriculum.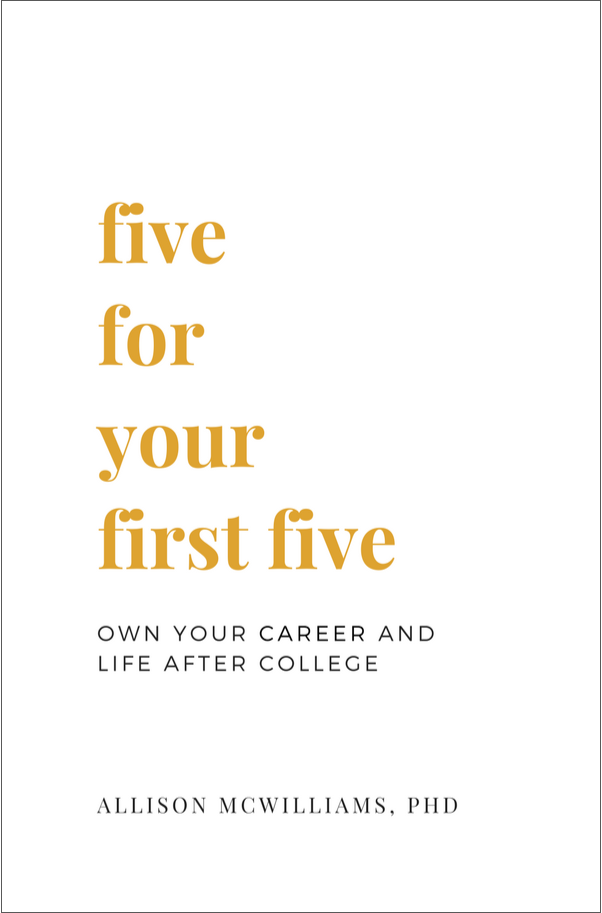 ---
About the Author
Allison E. McWilliams is Assistant Vice President, Mentoring and Alumni Personal & Career Development, within the Office of Personal and Career Development at Wake Forest University. In these roles, she leads and provides training, support, guidance, and resources for formal and informal mentoring relationships for college students, faculty and staff, and alumni, as well as leading personal and career development programs for young professionals. She has written for and spoken to national and international audiences about effective mentoring strategies, leadership, and professional development.
Prior to joining the University in June 2010, Allison was a public service faculty member at the University of Georgia, where she created, administered, and served as a facilitator for leadership development and organizational development programs and initiatives both for higher education and public sector audiences. Allison earned her bachelor's degree from Wake Forest, and a master's in public relations and a doctorate in higher education administration from the University of Georgia.
---
Acclaim and Press for Five For Your First Five:
"Dr. Allison McWilliams has hit the nail right on the head and provides focused, effective and actionable ideas for recent college grads who are getting too much inspiration and too little useable help addressing the substantial challenge of building their lives after college. Much of the literature for this audience patronizingly over-compliments them ("You are amazing and can do anything!') or over-criticizes them ("Today's young adults are so entitled – they're impossible!"). Neither of these categorizations is accurate or helpful – quite the opposite. Dr. McWilliams distills her substantial experience in working in some of the most advanced career-preparatory institutions in the country well by picking five key areas for grads to focus their efforts in building a life they own and can love. Her assessments of what's needed directly complements our decade-plus of work in the Stanford Life Design Lab. Her counsel spans the wide swath of necessary critical skills ranging from forming deep habits of personal reflection to navigating the tactical constraints of that tough first job out of college many grads will get. She tells it like it is without making assumptions or judgements about her reader and balances artfully conversing with her reader and challenging them via exercises to do the work. Like Dr. McWilliams, our team believes that successfully journeying those first five years after graduation (and defining what success is wisely!) is terrifically important. If you love anyone who is currently or about to be in those five years, do them the kindness of giving them this book."
– David J. Evans, Co-author of New York Times #1 Bestseller "Designing Your Life"
"All college students ask, 'How do I get a job?' Once they graduate and get that job, they ask, 'What do I do now?' Mentoring guru Dr. Allison McWilliams provides the answer in Five for Your First Five, the perfect guide to succeeding on the job and building a great foundation for life after college."
– Andy Chan, College-to-Career Innovator & Change Catalyst, Wake Forest University
Is it Time to Change Your Job? by Janet Swaysland, Engagement Strategist at Bluefire Partners in Boston, MA, October 3, 2017
Meet the Author: Allison McWilliams, Mentoring and Coaching Monthly, University of New Mexico Mentoring Institute, October 2017, p. 3-4