Shelby Taylor (BA 2014 in Communication with minors in Entrepreneurship and Italian)
Marketing and Business Development at Salem Delights in Winston-Salem, NC
Describe your current job role.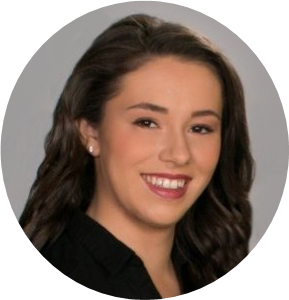 I recently accepted my current position with Salem Delights, a Triad local business that delivers fresh produce and locally made goods to customers' homes on a subscription basis. At Salem Delights I am responsible for marketing the company and its services to current and potential subscribers. In my day-to-day activities I manage our social media accounts and website, curate weekly emails about the week's featured box items, and use my digital marketing experience to attract new customers to our service. Another important aspect of my job is working with local vendors who supply goods for our boxes to innovative ways to co-market in a way that drives business for both parties.
In my previous position, I worked as Marketing Manager for The Head Team at Keller Williams Realty. In this role I was responsible for all aspects of marketing – web, social, email, print, advertising, etc. While I learned a lot about real estate and digital marketing in this role, I think the detailed knowledge it gave me of the Winston-Salem area and it's demographics will be the most useful as I grow into my new position with Salem Delights.
Tell us about an interesting project that you've worked on recently.
In my previous role as Marketing Manager for The Head Team at Keller Williams Realty, I took on a community outreach project in which our team was a sponsor for the 31st Annual Mistletoe Run through the Buena Vista neighborhood here in Winston-Salem. I created print materials that were put in each runners' participation bag and manned a booth at the start/finish line where we raffled off a large picnic basket of goodies. The event was a huge success and was an excellent way to get face time with the local community. Digital marketing is a huge driver of business in real estate but being present at an event like the Mistletoe Run fosters a more organic relationship between our team and past/future clientele.
I'm hoping to bring this take-away from my previous job with me to Salem Delights, a company already so rooted in the local community.
What do you know now that you wish you had known about being a working professional?
Being a young professional can be challenging and I wish I had known that while youth is generally coveted amongst people, it can make gaining respect in the workplace something you need to work at. It goes beyond acting professionally or wording your emails in a certain way. I think to really gain acceptance as an important, contributing member of a company, you have to show initiative beyond your job description. Use your personal skills to add unique value to your workplace and you won't be looked at like a recent graduate anymore.
How did Wake Forest prepare you for the world of work?
It is hard to put into words the way Wake Forest prepared me for life after college. I chose to go to a liberal arts institution because I was open to studying many different topics and felt that I should let my skills and interests guide me in my academic career. In many ways I expected to come out of Wake Forest at graduation with a more narrow focus, but I am happy to say that the opposite is true. I am now even more open to opportunity in the world of work and my openness has led me to each of the jobs I have had since graduation. I have the tough yet ultra supportive environment of Wake Forest to thank for the cool confidence I now have – unafraid to dive into different industries and get my hands dirty with work that excites me.
I am, however, noticing a trend. In the past four years I have gone to work for four start-ups and/or small businesses. Wake Forest and the Center for Innovation, Creativity, and Entrepreneurship are definitely responsible for my passion for entrepreneurship. It all started my Junior year when I was awarded a Summer Entrepreneurial Internship Stipend to work for Campus Grumble. With all of the experience I have gained working for young and small businesses and as an Entrepreneurship minor, I can definitely see myself as a business owner in the future.
What advice would you give to current Wake Forest students and/or young alumni who are about to start their first professional full-time job?
It can be hard to land your "dream" job right out of college, but go after something that really excites you. As a recent graduate you are in a unique position to be able to move around and take jobs that may lack in benefits but make up for it in autonomy and creativity. Take advantage of these years because they are definitely numbered!