Sydney Bailey (BS 2012 in Business Enterprise Management, Concentration in International Business, Minor in Global Trade & Commerce )
Strategic Leadership Development Program at  Edwards Lifesciences in Orange County, California
Tell us about your current job role and employer. What are you currently working on?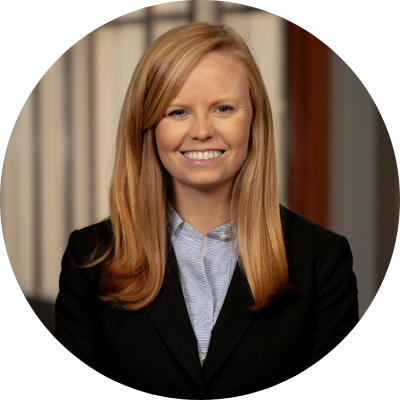 I work at Edwards Lifesciences, a global medical device company dedicated to developing technologies focused on structural heart disease and critical care monitoring. I am part of Edwards' Strategic Leadership Development Program, which is a two-and-a-half-year post-MBA development program where I rotate every six months through business units and functional areas contributing to projects in Strategy and Marketing. I feel so privileged to be working at a mission-driven organization dedicated to helping patients around the world.
What key personal and/or career experiences led you to where you are today?
My career path has been a bit unique, in that my first job after graduating from Wake Forest was assistant manager of a Target store. It was an incredible experience and the best lesson on leadership and resilience, but it wasn't my passion. I love to travel, so when I was thinking about my next move, I was looking for a global organization where I could gain exposure to business across borders. I spent six years at a global commercial insurance company, Allianz Global Corporate & Specialty, in Chicago, in a few different roles: underwriting, strategy and client management. While I was there, I also had the amazing opportunity to do an overseas assignment in London. After leading a team, working in a variety of roles that allowed me to expand my skillset, and an international experience, I felt like I was at a point in my career where I was ready to spend time reflecting on my next steps and investing in my personal development.
An MBA felt like the right space to do that and I chose Notre Dame because I connected to their motto of "Business for Good". Pre-MBA, some of my proudest and most meaningful experiences were volunteering with local non-profit organizations. I knew I was driven by a desire to help people, so I focused on finding a path where I could pursue that passion in the business world, and that led me to Edwards Lifesciences (our credo is "helping patients is our life's work and life is now!"). I feel lucky to be surrounded by people who always keep the question "what is best for the patient?" at the forefront of the work.
What is the most challenging aspect of your job? How do you navigate that challenge?
I would say, being new to healthcare and having been with Edwards Lifesciences for less than a year at this point, the hardest part of my job is ensuring that I set aside enough time for learning & development, particularly in such a complex space like Structural Heart Disease. The two rotations I've had thus far have been incredibly rich in that they have afforded me the privilege of working on our long-range strategic planning process in one, and the ability to connect with our customers directly in the other. I only have six months to make an impact in each rotation and I want to ensure that I'm adding value to my teams, so I work hard to execute on the projects in front of me, but I have to remind myself constantly that I'm very new to the industry. Time invested in learning the fundamentals of Structural Heart Disease is super important, even if it's not directly relevant to the project I'm working on.
What advice would you give to Wake Forest graduates about developing their personal life habits after college (finances, health, values, work/life balance)?
In terms of values, a professor in business school shared a quote that I love: "Never doubt that a small group of thoughtful, committed citizens can change the world. Indeed, it is the only thing that ever has." I love this quote because it helps keep what we all do every day (both professionally and personally) in perspective. I truly believe that the decisions we make each day are having an impact on the world around us and I try to remember that, always, as I move through the world.
In terms of developing personal habits, I am a huge proponent of work/life balance. Since I started working, I have taken at least one two-week vacation each year and it is so restorative. Early in your career, it's easy to feel like you won't get to where you want to be if you're not seen as the hardest working (and as a result, you feel guilty for taking time off), but I've found that I'm a better employee when I know I have time to step away, reflect, and come back motivated and ready to tackle the work.
We know that relationships are important for any kind of development. How do you build and maintain your network?
I leverage LinkedIn often to keep up with colleagues I've interacted with over the years. It's always fun to share congratulations with a former colleague on a promotion or career update, and it's such an easy way to keep in touch. Also, if I come across an article that I think someone I know would enjoy, I'll shoot it over via email or LinkedIn. Finally, I am a huge fan of snail mail, so if I have an opportunity to send a handwritten thank you note, I like to do that! It's a nice way to make someone feel appreciated.
Tell us about your mentoring relationships. What impact have these relationships had on your career and life?
I have had a handful of really important mentors over the years, both former bosses and peers. These people have helped me think through career moves and have given advice on how to navigate the balance between career ambitions and personal priorities. I've always found that it's important to have someone you can talk with openly when you're thinking about your next move.
What advice would you give to current Wake Forest students and/or young alumni who are interested in working in your industry?
I am so grateful to be in the healthcare industry where the work I'm doing helps others. That passion is something I feel across my organization and across the industry, so I suppose my best piece of advice would be that if you're interested in working healthcare, that passion is key. Make sure that shines through in your conversations, whether you're networking or interviewing.
What's next for your career? What future goals or plans are you pursuing?
I'm not completely sure what's next for me, but I know that I'm personally passionate about and motivated by helping others and I will continue to make choices that allow me to serve others. For me, after business school, that meant finding an organization with a mission I believe in. In the future, I hope it means leading a team of people with the same goal. I love learning about other cultures and I love to travel, so a global leadership role in a mission-driven organization would be the dream!
Story published in August 2021. For current updates about Sydney, visit her LinkedIn page.