Steve Margosian (1985 BA in Speech Communication)
Senior Vice President, Creative Partnerships-Sports & Olympics at NBCUniversal in New York, New York
Tell us about your current job role and employer. What are you currently working on?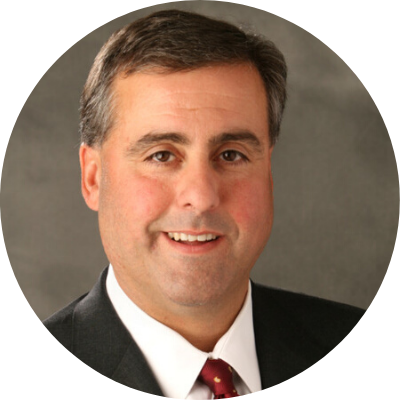 I have oversight of an Ad Sales Marketing team which creates multi-platform opportunities for advertisers to reach consumers via linear television, digital and social media. The NBC Sports portfolio of assets includes The Olympics, NFL, Super Bowl, NHL, PGA Tour, The Open Championship, Ryder & President's Cup, Nascar, Premier League, Triple Crown Horse Racing, Notre Dame Football, IndyCar racing, The French Open and Tour de France.
Our objective is to leverage the media, marketing and intellectual property rights secured from our league partners with advertisers to create incremental value and drive a Brand's awareness and consideration. We're often combining an advertisers "Official Sponsor" status with these Leagues to create even more meaningful exposure for Brands and measurable interactions with consumers. Currently, my focus is developing unique custom content to drive incremental sales to Sunday Night Football for advertisers like FedEx, State Farm, Applebees, Hyundai, and Amazon. Additionally the countdown to the 2020 Tokyo Summer Olympics Games has started. Activating the marketing platforms for Official Olympic sponsors like Toyota, Comcast, Visa, and Coca-Cola are in full swing.
What personal and/or career experiences did you have prior to landing your current job and leading to where you are now?
I've been very fortunate to be immersed in the Media and Sports Marketing space for 34+ years. A friendship formed with my Sigma Pi fraternity brother Jim Keever (WFU '83) led to my first opportunity at a mid-sized advertising agency named Backer & Spielvogel. After spending 10 years on the agency side in media buying, I made a career-defining decision to work for Anheuser-Busch here in NYC. Heading up their wholly-owned subsidiary Busch Media Group-New York office, I was given the chance to learn from the very best sports marketers in the country. How to create, market, and sell a product leveraging the scale provided by the largest beer company in the US and their marketing budgets was a most invaluable experience. It allowed me to expand my relationships in the sports and media business to the highest levels at all the legacy media companies like ABC, NBC, CBS, FOX and ESPN. In addition to having a seat at the table for Official Sponsor negotiations with the NFL, MLB, NHL, NBA, and Nascar among others.
Participating at that level taught me the power of preparation, unlocked my creativity and allowed me develop relationships that I value to this day. The past 13+ years I've spent on the Sales side working for Comcast Sports and ultimately NBC Sports. Leading a group of professionals in the ideation process is most fulfilling and our collective "What if we…" mindset has been a strong mantra to foster creativity within my group. Having worked on the Agency, Client and Sales side of the business has given me great industry-wide perspective. It underlines each of us needs to be willing to take chances on new opportunities which often can complement each other for a more well-rounded experience.
What is the most challenging aspect of your job? How do you navigate that challenge?
Balancing the multiple properties, relationships, and challenges of a rapidly changing media marketplace is a huge challenge. Sports is typically viewed live and not truly impacted by the "time-shifted viewing" patterns rapidly developing. However the broader industry trend of consumers watching "what they want, when they want, on the device they want" has far reaching implications to all media companies. The best way to help navigate during these times of change is to stay connected to the young people on my team and around NBCU. Engage them on their viewing and consumption habits. What's the hot social platform? What streaming service can't you live without? Why are watching live sports still so important in a culture obsessed with binge entertainment viewing? How can a marketer break through to you without it being viewed as intrusive? Listen to their answers and you'll learn a lot.
What advice would you give to Wake Forest graduates about developing their personal life habits after college (finances, health, values, work/life balance)?
I'm lucky to see many young people looking for that first opportunity in Sports Marketing so I get to give a fair amount of advice. I always lead with hard work, maintain your integrity and be a team player. That serves as a pretty good baseline for success. In our sports business it's tricky to create that work/life balance as so many of us are passionate about the sports we follow and having it directly interwoven into your career leads to 7 day work weeks. A person working in our business watches that football game or soccer match or golf tournament with an eye unlike most people. We see things on how Production presents the sport and how marketers create campaigns to leverage the passion of sports fans with a professional eye. It's fun, but hard to turn it off. Don't watch a game with someone in the sports business…it could drive you crazy listening to the intricacies that most people don't see.
We know that relationships are important for any kind of development. How do you build and maintain your network?
Making sure you check in with honest communication with your network of friends and relationships is a key. Without being overbearing you need to make that outreach at the right moment, with something relevant, with something interesting that shows you've been thinking about that person and care about the relationship. Of course, some relationships are so strong you don't need that seminal moment to make contact. Those are the best kind of relationships.
Bottom line, is stay available to your friends, be willing to go the extra mile to engage, and know when it's better to be a listener, not a talker.
Tell us about your mentoring relationships. What impact have these relationships had on your career and life?
As I mentioned, I've had a remarkable opportunity to speak to many young people about the industry. Mentoring them on what's important, what to focus on and how to use that information to succeed is something I'm most proud of. Over the past years I've managed big and small groups. Maintaining relationships with my team members and watching their successes has been extremely rewarding. My advice on Day One with every member on my team has been please let me know if you're thinking of new opportunities whether inside or outside The Company. If I think it's a good one, I'll help you get it. If I know things or have a strong opinion why it may not be the best idea, you may hear me try to talk you out of it. That philosophy has earned me the trust and lifelong friendship of many people who've gone on to successful careers.
What advice would you give to current Wake Forest students and/or young alumni who are interested in working in your industry?
Study the industry. There is more written and commented on in the media and sports marketplace than ever before. The high-speed collision of Content, Distribution, Brands and Measurement is happening right now and if you're interested in those things, start reading and talking to people about it. And when push comes to shove, learn what life at an advertising agency is all about. While a part of our business under great pressures, it's still the best place to start.
What's next for your career? What future goals or plans are you pursuing?
I'd like to continue my career at NBC Sports with a strong focus on a successful Summer Olympics in Tokyo 2020. At some point, I believe I'll be drawn into teaching about Sports Media & Marketing. That would be a nice way to sunset while still learning from young people about what's relevant.
Story published in October 2019. For current updates about Steve, visit his LinkedIn page.