Rosa Garcia (BS 2014 in Chemistry, BA 2014 in Spanish)
PhD Leadership Development Program at BASF in Charlotte, NC
Tell us about your current job role/employer and what you're currently working on.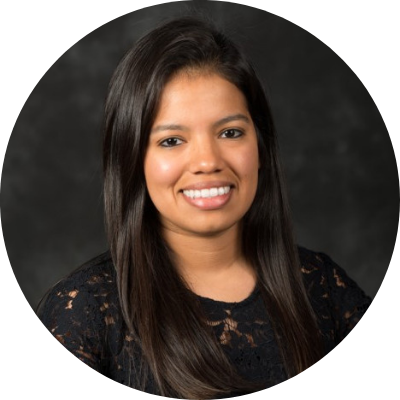 I am in BASF's PhD Leadership Development Program (LDP), a program consisting of three 8-month assignments. The experiences I have gained from this program range from being an R&D Scientist for Automotive OEM Coatings to being a Market Analyst for Claus Catalysts to being a Technical Specialist for Nonwovens. In my current assignment as a Technical Specialist, I support product development to obtain the performance properties our customers need for their nonwoven products in the filtration and glass mat markets.
What personal and/or career experiences did you have prior to landing your current job and leading to where you are now?
Prior to joining BASF as a PhD LDP, I was a graduate student in the Department of Chemistry at NC State University. I knew I was interested in a job in industry, but I was unsure of the company and position. By attending career fairs during my time at NCSU, I learned of BASF's PhD LDP and I engaged with BASF employees to learn more about the company, the culture, and opportunities for chemists. In my final year as a graduate student, I applied for the program and I happily accepted the offer.
What was the most challenging aspect of your first "real world job" and what did you learn from it?
In my transition from academia to industry, I needed to learn how to onboard quickly to be an effective team member in a short time period as my assignments are only 8 months long. When I was in graduate school, I would search for articles to understand the scope of the work and its limitations. Google was also a very handy tool. In industry, you have to get the background and direction of a product/project through colleagues and you have to be strategic with what information you can get from who based on their role and responsibilities at the company.
What advice would you give to new Wake Forest graduates about developing their personal life habits after college?
When I was an undergraduate, I read a book (The Defining Decade: Why Your Twenties Matter–and How to Make the Most of Them Now by Meg Jay), and off the top of my head, I recall education, health, and love being life-defining aspects. A few years later, I see why these aspects matter and how they can shape the rest of your life. Check the book out.
How have you made personal and professional relationships in your city, company, or community?
I love BASF for multiple reasons with one being their Employee Resource Groups (ERGs). By being actively involved in ERGs, you can learn more about the group and create close relationships with your colleagues. Sometimes, colleagues go from being colleagues to being a family and this relationship goes a long way.
Have you been mentored by anyone at Wake Forest or in your professional life? If so, what impact has that relationship had on you?
Yes, I have a mentor in my professional life who has been an invaluable resource with wise advice. From the very beginning, she emphasized the importance of a developmental plan that focuses on the soft skills. As an individual with a PhD in Chemistry, she mentioned that I can, without a doubt, learn the technical skills, but soft skills require attention and development, especially when working with complex audiences. I have also learned to reflect on experiences which has lead me to a better understanding of who I am and what I want to work on.
What advice would you give to current Wake Forest students and/or young alumni who are about to start their first professional job?
In life, there is no set path in how you get to your final destination, if there is a final destination. It is a process that you'll take step by step. Sometimes, you'll find yourself in situations and question how you got there. But, I challenge you to ask yourself what is the silver lining in this situation and how can this be a stepping stone for my next role?
What are your future career goals or plans? How are you being intentional about working towards them?
Based on my experiences in my three assignments, I have discovered what I find rewarding in a job. I really enjoy being a Technical Specialist, and I would love to land a position where I can develop and improve products for the customer. I am actively working to land a technical role close to the customer as my next position.
Story published in April 2020. For current updates about Rosa, check out LinkedIn.