Maggie Cancelosi (2013 BA in Communications)
Account Supervisor at Edelman in New York, NY
Tell us about your current job role/employer and what you're currently working on.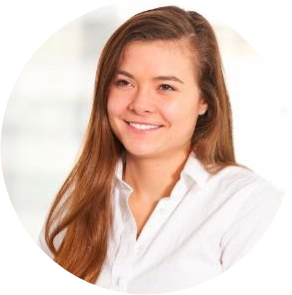 I'm an Account Supervisor in the Brand practice at Edelman, a global communications marketing firm. In my role, I'm responsible for crafting earned media relations strategies across retail, food, active lifestyle and consumer packaged goods clients. My day-to-day routine can range from overseeing a brand campaign launch to coordinating a spokesperson press day, and I value the opportunity to be constantly engaged with colleagues, clients, media, influencers and other key stakeholders.
What personal and/or career experiences did you have prior to landing your current job and leading to where you are now?
My passion for communication was ignited at Wake Forest, where lectures in classes like Media Ethics, Public Speaking, Communication and Technology and Sports, Media and Communication have been transferable to my professional life. My affinity for sports also played a key role in leading me into the industry, where internship opportunities in the communications department at the Wake Forest Athletic Department, IMG College and the NFL provided me with the experience and path forward to pursue a career in communications marketing upon graduation.
What was the most challenging aspect of your first "real world job" and what did you learn from it?
Learning on the job! From "what's the proper email etiquette when reaching out to a reporter?," to "how can I manage up to share that I may not make this deadline?," it involves so much patience and yes, maybe even a few minor errors, but the mastery will come with time and experience.
What advice would you give to new Wake Forest graduates about developing their personal life habits after college?
Everyone is charting their own path as they enter their new jobs in perhaps new cities or countries, and it's easy to become comparative (thanks, social media)! When getting settled into your new routine after college, focus on the schedule that works best for you to find a healthy work/life balance, whether that's blocking off one night of the work week that's just for you, or making time to get to know your work colleagues by coordinating an after-work yoga outing.
How have you made personal and professional relationships in your city, company, or community?
It has been fantastic to see the Wake Forest Alumni Group in NYC continue to thrive from game watches to volunteer opportunities. At work, I've had the privilege of fostering relationships with senior leaders, mentors and managers who have served as advocates and sources of encouragement, and I have found that to be a critical part of my professional growth. I hope to be able to pay it forward one day!
Have you been mentored by anyone at Wake Forest or in your professional life? If so, what impact has that relationship had on you?
Mentorship is part of Wake Forest's DNA. We're the kind of community that wants to bring out the best in one another, so whether a professor in the Communication Department provided guidance in office hours, or a counselor in the OCPD coordinated a mock interview, I felt so supported to pursue opportunities that have led me to my career in communications marketing.
What advice would you give to current Wake Forest students and/or young alumni who are about to start their first professional job?
Raise your hand (without over-committing yourself). It's great to show an investment in your company with an eagerness to learn more. It goes a long way with senior leadership when they see someone's excitement to be a part of the team, but it's equally important to understand your own workload so that you're appropriately managing your time and the team's expectations. Also, be confident that the constant multi-tasking at Wake Forest was worth it, because it pays off big time in the "real world."
What are your future career goals or plans? How are you being intentional about working towards them?
One of the reasons why I'm so passionate about my job is that the communications marketing space is constantly evolving, and the increased necessity to be able to forecast trends and offer best in class solutions for clients offers an exciting challenge.
Story published in October 2017. For current updates about Maggie, visit her LinkedIn page.