Katie Wolf (BA 2013 in Studio Art & Art History)
Assistant Director at Hanes Art Gallery WFU in Winston Salem, NC
Tell us about your current job role/employer and what you're currently working on.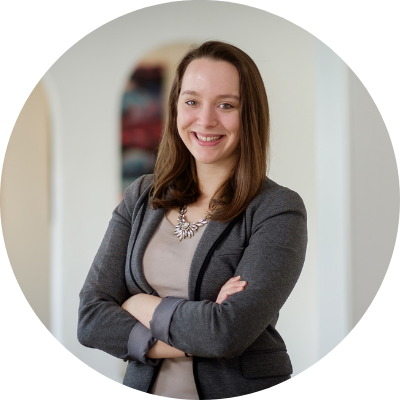 I am the Assistant Director of the Hanes Art Gallery at Wake Forest, and I work to support WaketheArts – a movement to infuse the arts into many aspects of the Wake Forest experience. Currently, I'm developing programs for students to gain experience in visual arts administration.
What personal and/or career experiences did you have prior to landing your current job and leading to where you are now?
After graduation, I managed the stArt Gallery, Wake's student art gallery, as a Presidential Fellow. Before then, as an undergraduate, I benefited from internships – most memorably at the Rock and Roll Hall of Fame & Museum. It was there, when I was checking the condition of Lady Gaga's preserved meat dress (it has been "jerked") that I learned how important a sense of humor is in balance with high professional standards.
These internships were invaluable in learning what I was good at, what I might not be good at, and how vastly different work cultures can be. As I organize internships now, I am more aware of the privilege I had to be able to work without pay, and I'm committed to supporting students in obtaining compensation for their work through class credit or grant funds.
What was the most challenging aspect of your first "real world job" and what did you learn from it?
I really struggled establishing myself as a professional. My professors were suddenly my colleagues and my classmates were my work-study assistants. I learned a lot about boundaries that first year – I had to set strict rules for myself in order to put myself in a professional mindset.
What advice would you give to new Wake Forest graduates about developing their personal life habits after college?
Since graduating I've become passionate about personal finance and financial literacy. Money can be such a taboo subject, and it can feel uncomfortable to talk to friends or family about your financial foundation. However, as a new graduate this is the absolute perfect time to learn as much as you can and set yourself up well. One of the most important factors to financial independence is time, and today you'll have more than you ever will. You're welcome to email me if you want to talk about your situation – judgement free.
How have you made personal and professional relationships in your city, company, or community?
I was lucky. I was welcomed swiftly into the Winston-Salem arts community by a group called Art Nouveau Winston- Salem (ANWS), a group of young professionals sponsored by the Arts Council. The group's mission is to get young people more involved in Winston's art scene, and I made wonderful friends outside of the "Wake bubble". It can be challenging to make friends post-college, and I was lucky to find a group like this. I encourage you to find groups and committees in your town supporting organizations that are meaningful to you. Plus, the organizations need your time and support.
Have you been mentored by anyone at Wake Forest or in your professional life? If so, what impact has that relationship had on you?
I have been mentored by countless Wake Forest faculty, staff, and administration – honestly, too many to give proper credit here. I am especially grateful to Paul Bright, Leigh Ann Hallberg, Morna O'Neill, Allison McWilliams, Gordon McCray, and Allison Perkins. They often anticipate what I need before I know myself – they are the more experienced runners of the marathon that generously give me water from their own cups.
What advice would you give to current Wake Forest students and/or young alumni who are about to start their first professional job?
Up until this point, you've likely been running sprints from one year/semester to the next – capping off each with a measurable "win" or "loss". It's important, now, to switch your mindset to running a marathon. It's a totally different way of exerting energy. The biggest mistakes I've made professionally have happened because I was trying to go too fast. The most important thing you can do is to show up everyday and take one deliberate step at a time. Also, it's important to find joy in whatever you're doing. Time goes by quickly.
What are your future career goals or plans? How are you being intentional about working towards them?
In December, I will complete an MBA with a Nonprofit Management Concentration from UNC Greensboro, and I am committed to supporting the financial sustainability of artist and arts organizations in North Carolina. My goal in my current work is to help students gain experience in arts administration that will help prepare them for fruitful and fulfilling careers. I plan to work more specifically in development, programming, or financial services in support of financial literacy.
Story published in March 2021. For current updates about Katie, visit her LinkedIn profile.