Kate Brogan (BA Biology 2010)
Public Affairs Specialist at National Oceanic and Atmospheric Administration (NOAA) in Washington, DC
Tell us about your current job role/employer and what you're currently working on.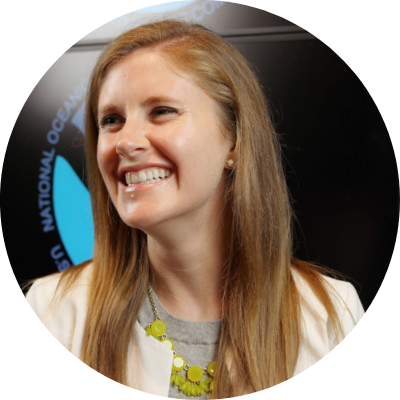 I work for the National Oceanic and Atmospheric Administration (NOAA), which is the agency responsible for everything from issuing daily weather forecasts through the National Weather Service to regulating the multi-billion dollar U.S. commercial fishing industry. As a Public Affairs Specialist, I work with a team to answer journalists' questions about NOAA's science and stewardship, and provide the media and public with information about the exciting work happening at the agency through social media, online content, press releases, and events.
What key personal and/or career experiences led you to where you are today?
Growing up in New Jersey, and spending a lot of time at the beach, I knew from a young age that I wanted to protect the marine environment. After receiving my Bachelor's degree at Wake, and spending a lot of time in college scuba diving, I pursued an interdisciplinary Masters degree at Duke's Nicholas School of the Environment, which allowed me to focus on the public policy and communications aspects of the marine and coastal conservation. I worked for two years as a Communications Specialist at the North Carolina National Estuarine Research Reserve, a coastal research and education program, in Beaufort, North Carolina, which really highlighted the importance of engaging directly with the community on research and conservation projects. When I went to work for NOAA in Washington DC a few years later, being able to tie all of that previous experience together was critical, and I was fortunate enough to have a strong network of support from both Wake and Duke in the region to offer guidance and share their perspective.
What is the most challenging aspect of your job? How do you navigate that challenge?
NOAA is a large agency, with 12,000 employees, and an incredible range of important work— everything from mapping our nation's coastlines to launching satellites into space to observe Earth. Sometimes it is challenging to coherently tell NOAA's story, because there are so many parts to what we do!
What advice would you give to Wake Forest graduates about developing their personal life habits after college (finances, health, values, work/life balance)?
I would recommend finding a job that aligns with your values, and that you have some natural ability for. If either of those are out of balance, you will be miserable going to work each day, and it will affect other parts of your life (personal life, mental health) as well.
We know that relationships are important for any kind of development. How do you build and maintain your network?
I am lucky enough to have friends from my freshmen dorm at Wake that I text with almost daily. Knowing that we can share a quick text with a funny story has made being home-bound during COVID-19 much easier. I am also involved in the alumni board for my graduate program, and that has been a great opportunity to connect with leaders across the environmental field who are interested in similar issues.
Tell us about your mentoring relationships. What impact have these relationships had on your career and life?
I have not had many formal mentors, but I do like to ask specific people in my life for "gut-check" advice, and without them really knowing it, that small brain trust has probably shaped a lot of my career decisions.
What advice would you give to current Wake Forest students and/or young alumni who are interested in working in your industry?
My suggestion would be to be open to all the possibilities of the environmental sector. Each environmental challenge we face is an opportunity for committed students and young people to be the solution.
Story published in February 2021. For current updates about Kate, visit her LinkedIn profile.