Joseph DeRosa (BA 2014 in History)
MA Student at Columbia University in New York, NY
Describe your current job role.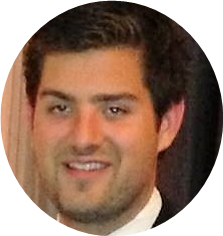 I am currently in the first year of the Dual MA/MSc in International and World History at Columbia University/London School of Economics. My research focus is nomadic peoples, the British Empire, and state formation processes in the Middle East in the early 20th century. I also serve as the representative of my cohort for the Graduate Student Advisory Council.
List any additional work experiences you've had since graduating from Wake Forest, in addition to your current employment.
I have spent most of my professional career working with the Syrian conflict; first at an internship at The Carter Center and later as an Analyst at Creative Associates International. Somewhere in between, I moved to Cairo where I worked at a research/consulting firm specializing in South Sudan.
Describe an interesting project that you've worked on recently. What did it involve and what was the impact?
I had my first encounter with the media last Spring, when Huffington Post Germany interviewed me for my thoughts on the Syrian conflict. I'm not sure I can gauge the impact my comments had on the readers, but I learned two things from the experience. The first was how to say "caught with their pants down" in German. The second was to choose metaphors carefully during interviews.
How did Wake Forest prepare you for the world of work?
Above all else, Wake Forest taught me two things: how to be curious and how to learn. Whether it's history, health care, or hermeneutics, get curious about something and read up on it. If you become an expert in your chosen field, things often falls into place.
Have you been mentored by anyone in your professional field since entering the workforce? If so, what impact has that had on you?
While interning at The Carter Center, I had the fortune of meeting a person whom I would consider to be not only a fantastic mentor but a dear friend. The two roles really aren't so different. Through this relationship, I learned that it's important for me to reach out to coworkers with whom I would like to begin a mentoring relationship. Many of my best mentors have not been the most outgoing people in the office; indeed, more reserved coworkers often have fewer would-be mentees and therefore, are more likely to have time to dedicate to their relationship with you. Once you break down the formal work barriers (manager-employee, employee-intern), you'll find that most people in the office are quite welcoming.
What do you know now that you wish you had known about being a working professional?
The working world is not something to be dreaded! There is life after college. And it's not all that different. Especially coming straight out of undergrad, almost every job you take will require substantive on-the-job training. And, by learning to learn, Wake prepares all of us for this.
Story published in April 2017. For current updates about Joseph, visit his LinkedIn page.