Deb Marke (2016 BS in Health & Exercise Science, with Psychology and Women, Gender, and Sexuality Studies)
Assistant Director of Advocacy & Social Justice Education in the Office of Civic & Community Engagement at Wake Forest University in Winston-Salem, NC
Tell us about your current job role/employer and what you're currently working on.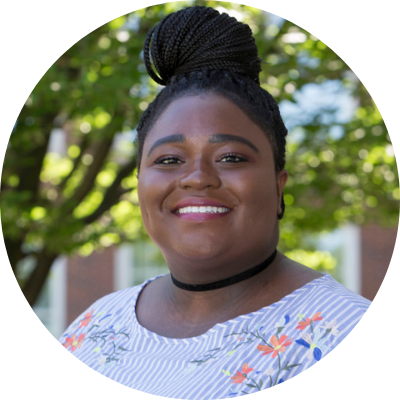 I am honored to work at Wake Forest in the Office of Civic & Community Engagement. The OCCE is the central hub on campus for community based activities on campus where we engage students, faculty, and staff to create meaningful social change. In my role, I manage our Social Justice Incubator space, a student-led incubator space dedicated to advancing social justice through education, programming, and large-scale events; oversee the BRANCHES Social Justice Retreat; manage the Wake Alternative Spring Break program; plan and coordinate the College Advocacy Summit which brings students together student organizers to share resources, build skills around organizing and advocacy, and mobilize for change; design and lead social justice training sessions; coordinate the Deacs Decide Election Engagement Project, and manage Building University Inclusion through Leadership and Diversity (B.U.I.L.D.) pre-orientation program that introduces first-year students to concepts of leadership, intercultural communication and social change.
What personal and/or career experiences did you have prior to landing your current job and leading to where you are now?
During my time at Wake, I was on the pre-med track. I realized a little too late that medicine wasn't what I was passionate about, but continued on because my parents really encouraged me to do so and I didn't want to disappoint them. After graduating, I decided to do a year of service through the AmeriCorps Volunteer in Service to America (VISTA) program in Winston-Salem which seeks to build capacity at a non-profit or community organization to eradicate poverty. During this time, I learned a lot about economic justice, community organizing, and began to realize that I really love developing programs, workshops, and connecting with people. I leaned on my mentors from Wake and ultimately had a moment where I came to the conclusion that I wanted to do student development work really centering on marginalized students. I went to work at the University of Cincinnati's Women's Center as the Program Coordinator for Activism and Leadership. In this role, I got the opportunity to focus in on feminist leadership, gender justice, and feminist activism. I really had the chance to grow and challenge myself and my students to begin to reimagine the world that we want and what we need to do to achieve it. After a little over two years, I was thinking about my next step and the AD position opened up in the OCCE. I was nervous, but realized that this is a great next step for me- continuing the work I love to do, challenging myself in new ways, and getting to come back to a place that gave me so much.
What was the most challenging aspect of your first "real world job" and what did you learn from it?
I struggled a lot with Imposter Syndrome. I constantly felt like I didn't belong and had to prove to myself and others that I should be there. I worked a lot of late nights and weekend, rarely said no to anything, and was really hard on myself. It took my supervisor reminding me that they hired me out of all the candidates because they wanted me there and that they knew that I could do the work. I learned that I can't be everything for everyone, sometimes it's okay to say no, and that trying to do everything is not sustainable- it's really exhausting.
What advice would you give to new Wake Forest graduates about developing their personal life habits after college?
Use your paid time off! If you are sick, do everyone in your office and yourself a favor and stay home and focus on getting better. You accrue that time, you should use it- the work and the office will always be there.
Find time during the week to do things that you love to do. I really enjoy going cycling- so I make sure to do that 3-4 times a week where I don't focus on anyone else but myself. It's never selfish to focus in on yourself
It's really hard to make friends outside of college. I had to learn what it looked like to build community as an adult. At first, I spent a lot of time alone, trying to adjust to a new city where I knew no one and it was really isolating. So, I went out to coffee shops, events around topics that I really love to meet people with similar interests, and I started volunteering at organizations I was passionate about, and slowly, but surely I formed a really solid community. It's going to be weird, but I encourage you to lean into the discomfort and awkwardness of meeting new folks.
Have you been mentored by anyone at Wake Forest or in your professional life? If so, what impact has that relationship had on you?
Dr. Paige Meltzer was the first director of the Wake Forest Women's Center- she has always been there for me, poured into me, challenged me, and cheered for me. I would not have made it to graduation if it had not been for her. She is the reason why I am in higher education, in all the spaces I didn't feel seen or heard across campus- I always felt at home and like I belong in the Women's Center. When I told her I wanted to do what she did- she sent me job descriptions, helped me prep for the interview, and gave me space to practice my presentation. I still talk with her and go to her when I need advice or something big is happening in my life. She taught me what a good mentor looked like and I think of her when I am mentoring my students now.
What advice would you give to current Wake Forest students and/or young alumni who are about to start their first professional job?
Remember that this doesn't have to be forever. You may not be where you want to be and that's okay. Take the time to figure out what you love about the job you are in, what skills you can gain, and just go in doing the best that you can.
Story published in November 2019. For current updates about Deb, check out LinkedIn.