Brooke Thomas (2012 BA in Communications)
Director of Basketball Operations-Women's Basketball Team at Wake Forest University in Winston-Salem, NC
Tell us about your current job role/employer and what you're currently working on.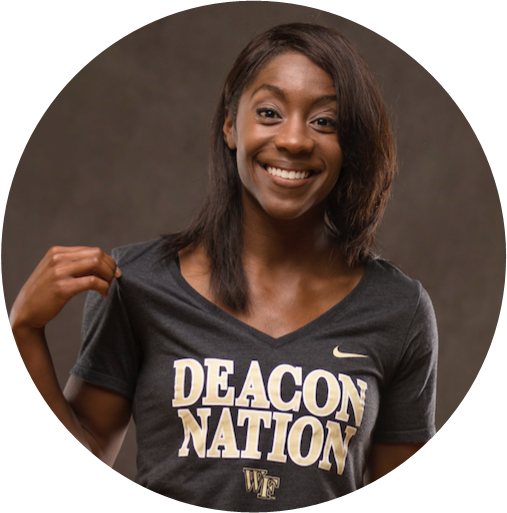 I'm the Director of Basketball Operations for Wake Forest University Women's Basketball Team. It's a dream job. I am responsible for the day to day logistics behind the scenes of the Women's basketball program. I'm working on something different every day. Actually it seems like every hour. A few things I'm working on right now is finalizing our travel arrangements for conference play beginning in January. I'm also working on planning an alumni weekend for all of our former women's basketball players that will be January 3rd and 4th (shameless plug!). Tonight, I'll go to the William G. White, Jr. Family YMCA with the players. They've done an awesome job of giving back and volunteering their talents to help coach during YMCA basketball clinics. I'm so proud of these young ladies. It's really an awesome team to work with.
What personal and/or career experiences did you have prior to landing your current job and leading to where you are now?
Previously, I was a web content reporter for Fox Sports Florida for a little over three years. I loved the experience. It definitely solidified the fact that I want to be working in sports. Last year, I worked for Fellowship of Christian Athletes at Edgewater High School in Orlando, Florida. It was a life changing experience. I was a mentor, a life coach, a team chaplain, "a little bit of everything" for high school students at my alma mater. Working for FCA led right into this job where I have a very similar role when you take away all the logistics I'm responsible for now. At the core, I'd say the mentoring and relationship building with the young ladies has been my favorite part of the job.
What was the most challenging aspect of your first "real world job" and what did you learn from it?
The most challenging part of my first real world job was finding my strengths finding where I fit in, and understanding what I could add to the team that no one else could. As a former basketball player, I always knew how my strengths and skill sets helped the team. In the "real world," managers and bosses aren't always as intentional about pulling out the strengths in their employees as coaches might be with their players. It was an adjustment at first to find my fit. The lesson I learned is to always be committed to personal career development. Yes, you have to master your job first. But, I don't think you have to settle for just doing only what your boss asks you to do. Or only what's on your job description. If I have to go to work everyday, I don't want to just go, I want to grow.
What advice would you give to new Wake Forest graduates about developing their personal life habits after college?
Life after college is funny. I'm still figuring it out! I think in some ways I'll always be growing, changing, and laughing at myself. My biggest advice is to realize that your biggest asset in life is your relationships. Make time for people. Invest in people. In my first job, I got so caught in "being successful" I had no work/life balance. A good friend of mine once told me a good relationship balance is to find three groups of people in your life. People that pour into you (mentors, parents), people that walk with you (peers, siblings, partners), and people you pour into (someone you are mentoring). People are the currency of life.
How have you made personal and professional relationships in your city, company, or community?
I've built personal relationships by volunteering and by joining a church. Although I've never joined an intramural team, many of my friends have found great friendships by joining these kinds of teams! I've built professional relationships very casually. If it's someone I want to get to know who works in the same building as me, I love just popping into their office and saying hello. I think my general rule in professional networking is out of sight, out of mind. I want to give a hello, send a text or email, go to lunch, or just make some type of touch at least once a month.
Have you been mentored by anyone at Wake Forest or in your professional life? If so, what impact has that relationship had on you?
I've been mentored by SO MANY PEOPLE at Wake Forest. In general, I have been so blessed to have many amazing mentors in life. It would take too long to single out every impactful relationship in my life. So I'll just comment on the impact mentorship has had on me as a whole. I believe mentorship has expanded my thinking, corrected and challenged my insecurities, affirmed and enhanced my strengths. Mentorship has made all the difference in my life. I can't even imagine where I would be if it wasn't for the people who have and still are shaping me and pouring into me.
What advice would you give to current Wake Forest students and/or young alumni who are about to start their first professional job?
My advice – hard works always pays off. It's the rule of farming: you reap what you sow. Don't cut corners. Don't let your feelings dictate your work ethic. Working hard and treating people well will always always pay off in the end.
What are your future career goals or plans? How are you being intentional about working towards them?
I think this question is always hanging over a recent graduate's head (I still consider myself a recent graduate!). If I'm being honest, I can't exactly pinpoint what my career will be in the future. I do have the desire to host a talk show one day. I also know that I would like to continue in college athletics. I wouldn't call these desires goals though. I like to set input goals, not outcome goals. No matter what my job is, my career goals will always be about what I'm putting into the job – working hard, loving people, and growing personally. I've learned to trust that my career, just like my life, is a process. I have to trust the process and enjoy the journey. I am definitely enjoying this part of the journey – back at Mother So Dear, in a sport I love, working with amazing people.
Story published in December 2017. For current updates about Brooke, visit her LinkedIn page.