Anna Cowdin, DMD (2011 BA in Psychology, with Chemistry)
Owner/Dentist at Nomad Dental in Dallas, TX
Tell us about your current job role/employer and what you're currently working on.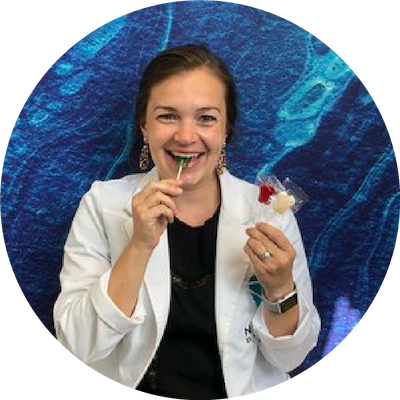 I currently own and operate a tiny house dental office, Nomad Dental, in Dallas. We visit large company headquarters monthly to treat employees during their work day.
What personal and/or career experiences did you have prior to landing your current job and leading to where you are now?
I started Nomad Dental while I was still in dental school and had the tiny house built about an hour from school. I worked in a few dental offices before I was accepted to school so I used that knowledge, my knowledge from school, and a whole lot of winging it to design and build the office.
What was the most challenging aspect of your first "real world job" and what did you learn from it?
I worked as an assistant for a few years after college, but this is probably my first real job. With Nomad, knowing that the buck stopped with me was a little scary at first. I got a lot of pushback on my choices in design and equipment but I had to stand up for what I wanted because nobody else would.
What advice would you give to new Wake Forest graduates about developing their personal life habits after college?
Figure out what works for you and don't feel guilty about it. I have two kids, 2 and 11 months, and I felt a lot of guilt when I couldn't spend all day with them anymore. I've now realized I'm a better mom when I get time away to spend on my passion. I feel more refreshed and when I'm home I am 100% present during that time rather than 50% present all the time.
How have you made personal and professional relationships in your city, company, or community?
I have realized that I need to put myself out there more than I would usually. I try to attend more events and say yes to spending time with other moms and dentists, even when I would rather not. This is so important as a startup and since I work alone and don't have professional relationships at my office.
Have you been mentored by anyone at Wake Forest or in your professional life? If so, what impact has that relationship had on you?
I had a couple of mentors in dental school. They instilled in me the confidence to go out on my own and follow my dream. They were always available for questions and built me up when I was struggling with something. I call them often to chat and ask questions!
What advice would you give to current Wake Forest students and/or young alumni who are about to start their first professional job?
If you have a dream, set little goals to get there and always check in on yourself to see if what you're doing is helping you on the way. Every job you take should be a stepping stone to your dream! I worked as an dental assistant, front desk, and even in dental real estate. All of these jobs, while tedious at the time, helped me learn the different aspects of my field.
What are your future career goals or plans? How are you being intentional about working towards them?
The end goal for Nomad is to have multiple offices in different cities and possibly franchises. We also currently consult, design, and build mobile offices for other dentists and would like to grow that part of the business. We are always trying to perfect our systems to make sure we have a scalable business model. Once we feel like we can grown without putting quality at risk, we will likely open our second office.
Story published in May 2019. For current updates about Anna, visit the Nomad Dentist website.