Andrew Snorton (BA 1993 in English and Sociology)
Owner at Creative Community Solutions, LLC in Atlanta, GA
Tell us about your current job role and employer. What are you currently working on?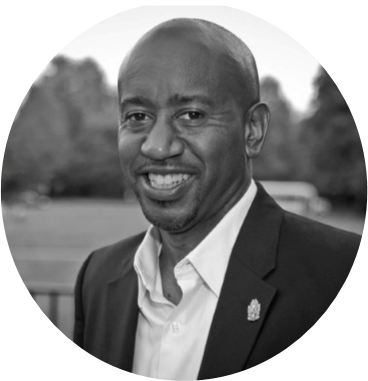 I am the Owner of my own company, Creative Community Solutions. My work includes education, writing, and press/media services. I provide a range of educational services, including traditional and virtual tutoring and workshops for ACT/SAT preparation and ASVAB. I work with a few of high schools in my area for their test prep (ACT, SAT, and Asset testing).
I have written two books ("Deeper than your deepest sleep: thoughts on love with Joseph Snorton" and "9 stories of faith: volume 1"). I'm an editor and proof consultant for fellow authors. I consult with a few businesses as they interface with radio, television, and online publications. On my television show "The Conversation Corner with Author Andrew Snorton", I interview a wide range of guests from the entertainment, business, nonprofit, and inter-related community.
With those moving parts, my current work is focused on expanding to different audiences within my community and in other cities. I have several projects in the works with organizations and schools for their test preparation, with individuals and businesses, and with community entities to support their press/media needs.
What key personal and/or career experiences led you to where you are today?
There are a number of key personal and career experiences which have led me to where I am today. My previous experience of working in Gwinnett County Public Schools (GA) and my with community organizations have a clear impact on the work I do. While I am no longer in the classroom, understanding the importance of teaching and learning, meeting students where they are, and giving them the gradual challenges to improve their skill sets, confidence, and performance are all key experiences that I continue to use today.
Early experiences ranging from classes taken in English, Sociology, History, and Communications play a huge role with my writing and interfacing with multiple audiences. I can remember being interviewed by the local media when I participated in the Volunteer Service Corp (Project Pumpkin)! This experience helped shape how I think about interviewing others now.
What is the most challenging aspect of your job? How do you navigate that challenge?
Sometimes, there are "lean" stretches for my company, even when I have planned and mapped out quarterly goals. There are long evenings, setbacks and unanticipated situations that I experience as a business owner. What helps me is my spiritual grounding, understanding that this comes with the territory and is a part of the process, and knowing that at times I have to pause, reboot, and even leave something alone before I let it spill into other areas. Even with experience, I have to remember there's always a learning process.
What advice would you give to Wake Forest graduates about developing their personal life habits after college (finances, health, values, work/life balance)?
Never stop learning. Learn from your mistakes. We all make them. Know that at times, your biggest support may come from people who don't know you, because people who know you are used to seeing you operate in one "lane". As you grow, evolve, and expand, some people aren't going to know how to process this new you.
That's where your grounding is so important. Understand that life is a process and things take time, sometimes longer than you'd expect. But when people see that you are dedicated to your craft, you'll be surprised where help may come from next.
And don't forget to reach back and empower others along the way. Nobody gets "there" by themselves. Reach across the aisle and to those with experiences different from your own.
We know that relationships are important for any kind of development. How do you build and maintain your network?
Sometimes, I wonder how!
You build your network by identifying people in your field or area of interest. For example, there are a number of authors (and more that I'm looking forward to connecting with) from different events and festivals that I connect with and network with. There are things they see that others don't and vice-versa, and over the long haul, you can make things a "win-win" on so many levels. The same with press/media; when I wrote for Examiner.com in 2016, opportunities to interview people across the board, from community organizations to those in arts and entertainment are very integral in my development to where I have a growing platform to build upon the work I've done and yet to do.
It's combination of identifying people to connect with, being a part of the "circles" for your meet and greets, mixers, and workshops to help you grow, and being as consistent as possible to connect with people. You don't always have to call someone every day, but call on them as best as possible, and come to them with something to talk about and you'll be surprised where it can take you.
Tell us about your mentoring relationships. What impact have these relationships had on your career and life?
We hear on a regular basis how mentoring is important. And it really is.
Professors such as (but not limited to) Dr. Eure, Dr. Harris (Sociology), Dr. Oakes (now at UNLV), Dr. Ernie Wade, Ms. Elena Mastroianni (one of my teachers from elementary school…yes, I can remember that far back!), and other coaches and professionals have been and are still great resources to me. They provide timely insight and advice. Fellow authors, Tyressa Ty and Darrius Gourdine, have been real helpful.
Mentors do more than provide the professional or creative insight and advice; at times, they are the ones who help redirect you so you don't look foolish.
Get the right people in your corner. Those individuals who are willing to give you sincere and honest feedback, even when the truth is something you don't want to hear. Often, that's when you need to listen to it the most.
What advice would you give to current Wake Forest students and/or young alumni who are interested in working in your industry?
Learn as much as possible when you decide to venture on your own. Identify people beyond your usual circles. They can provide some sound insight based on their experience that you can adapt to your needs.
Stay as connected as possible with your initial "tiers of access", including where you grew up, and your collegiate experience at Wake Forest. Please make sure to be engaged with the community and expand across different audiences and demographics. Don't immediately shun, discard, or discount someone because they don't appear to be like you or what you are used to. Be sincere with your outreach and stewardship, and don't be afraid to show your dedication to your craft and development.
You never know who may be a resource and help you expand your reach.
What's next for your career? What future goals or plans are you pursuing?
What's next? Continued growth and development, continuing to get better, and keeping it as balanced as possible. Essentially, remaining grounded, humble, and hungry.
There's more on the horizon for the work I am doing and have yet to do. As long as I remain grounded, dedicated to my craft, learn from my mistakes and successes, and continue to focus on positive growth with a blend of being strategic and having fun along the way (yes, you do need to be focused and driven, but we all have to stop and smell the roses, or take that walk in the park and enjoy a sunset and those kinds of things), I'll be an even bigger and more positive presence professionally, civic-wise, and otherwise.
Story published in June 2019. For current updates about Andrew, visit his LinkedIn page.