Alexandra Taft (2011 BA in Psychology)
Enterprise Analyst at A2B Solutions Group in Winston-Salem, NC
Tell us about your current job role/employer and what you're currently working on.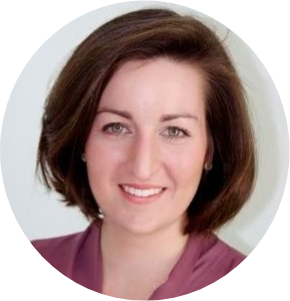 I work for a small consulting firm that specializes in the Salesforce CRM platform. We assist our clients – integrating CRM into their current organization and owning ongoing development and support. In my role, I wear many hats – Business Analyst, Project Manager, Technical Architect and Developer. Whatever is required by the client at hand! I love what I do and the variability keeps me constantly learning and on my toes. My current project is assisting Komatsu Mining with integrating an acquired company (Montabert – based in Lyon, France) into their Salesforce CRM.
What personal and/or career experiences did you have prior to landing your current job and leading to where you are now?
My career path has been challenging and varied. After graduation, I actually pursued my dream of being a Professional Equestrian. I spent over a year as the Assistant Trainer on an excellent farm riding clients horses, giving riding lessons, and competing. But then the day came when I realized I was living my dream, but it was no longer what I wanted out of life. It was a hard wake up call. At 22 I started a very transitional period of my life. I took a job as a receptionist in a veterinary clinic to move home. While I was no longer pursuing horses as my career, they were still a big part of my life, and I made ends meet by doing training rides on the side. During that time I began talking to literally everyone I met about what they did for work and what they loved about it. Through these discussions, I was offered my first "career" job as a Human Resources Administrator. The Vice President of HR was a client of mine – I was helping her with her horse at night. The experience exposed me to the operations of a large company and enabled me to make many professional contacts. But through this experience, I also realized that Human Resources was not my calling. So again, I continued talking to everyone I met about their work and career paths. These conversations ultimately led me to my current boss and the rest is history. As the company grows, the needs change, and my role changes right along with it. I love working with clients to solve problems, stream line work processes, and create success!
What advice would you give to new Wake Forest graduates about developing their personal life habits after college?
I wish someone had told me that my early 20s were just going to suck. After graduation, I thought I had made it somehow. I was educated. I was out on my own, making my own money, and I was going to win at this thing called life! And then there was this horrible realization that everything is SO expensive, and what you thought was a good salary doesn't go so far after taxes, and relationships are challenging with busy work schedules and uncertain career paths.
I took a step back to re-evaluate and then I dove in. I followed sage advice and put myself on a strict budget – saving as much as I could at all costs. I took advantage of the max 401k match right away even though it was painful. I found a way to make time to ride my horses and work off the board to save money. And I continued to follow my intuition. I bought a house at 23. It is very small – 945 square feet to be exact – but I have never been happier living anywhere. When times are hard, I come home to my little piece of heaven (a mortgage I can afford even on the worst months).
I would never go back to my early 20s. I have let a lot of those false expectations go and found my own way. But I think most importantly, I keep talking to everyone around me young and old – about relationships, work, life expectations and then do my best to find my own truth.
How have you made personal and professional relationships in your city, company, or community?
Any way that I can! I've pursued my interests outside of work by joining a masters swim team and continuing to stay involved with horse-riding. I've maintain my relationships with former professors and with other Wake alumni.
Have you been mentored by anyone at Wake Forest or in your professional life? If so, what impact has that relationship had on you?
Yes. I consider myself very fortunate as I have had several mentors. My current boss is the most prominent one, however, and he is constantly pushing me to consider directions I may not have found on my own, providing resources for me to learn and improve, and critiquing my current work so I can do better next time.
What advice would you give to current Wake Forest students and/or young alumni who are about to start their first professional job?
Go into your first job planning to do your very best work in that role. Prove yourself by excelling at the tasks at hand, even if they seem insignificant to you. Be ready to learn without judgement from everyone you encounter and follow your intuition when it calls.
What are your future career goals or plans? How are you being intentional about working towards them?
I am in the very exciting position of helping grow A2B Solutions Group. I am hoping with time to lead more client projects as well as more of the operational aspects of the company. I am on a path to become the first COO of A2B.
Story published in February 2018. For current updates about Alexandra, visit her LinkedIn page.