Stephanie Bolton, PhD (2003, BA in Chemistry with Minors in Secondary Education and International Studies)
Grower Research & Education Director/Sustainable Winegrowing Director, Lodi Winegrape Commission in Lodi, CA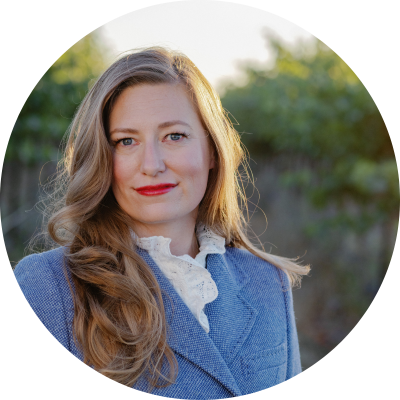 Tell us about your current job role and employer. What are you currently working on?
Lodi, California is a town just south of Sacramento with a unique farming community. There are many crops growing in Lodi, including cherries, almonds, olives, and pears, but the largest planted crop by far is winegrapes. Everywhere you look there are stunning vineyards. The local police cars have bunches of grapes on their doors and some local high schools have student vineyards! Lodi is one of the few American wine regions with ancient vines – vines over 100 years old which survived through the Prohibition era. The Lodi farmers vote every five years on a self-imposed grape tax which funds the Commission, whose mission is to promote the region and provide education and research to the winegrowing community. I lead the Grower Research, Education, & Communications initiatives, plus the LODI RULES Sustainable Winegrowing Program, at the Lodi Winegrape Commission, an organization representing 750 growers farming around 90,000 acres of winegrapes.
Working closely with Lodi winegrowers, I take collaborative teams through deep viticultural studies of sustainability, agricultural biodiversity, grapevine viruses, rootstocks and more. During my time at the Commission, we've procured grant dollars to fund special projects and expand current initiatives. Just this year, a team and I were awarded a $428,111 grant to study the potential of canines to detect mealybugs and viruses in vineyards, offering a creative — and unexpected — new way to protect the $57.6 billion California winegrape industry. This work will build on our years of research in the field of viruses and virus detection which includes the writing and creation of the book What Every Winegrower Should Know: Viruses in 2020. The book – now distributed worldwide – has been a game changer in keeping vineyards healthy.
In addition to education and research responsibilities, I also lead and direct the LODI RULES sustainable winegrowing certification program, recognized by many as the top program of its kind. LODI RULES participation has increased to nearly 70,000 certified acres across California, Washington, and Israel. Now in its Fourth Edition, the program includes over 70 farming practices which tangibly reduce the emission of greenhouse gases. Recently updated, the program's pesticide risk model – PEAS 2.0 – is recognized as the industry's most advanced tool to quantify the total environmental and human impact of plant protectants applied to LODI RULES vineyards annually.
I have a real passion for international and intergenerational learning, which is shared by the community of Lodi winegrowers. Earlier this year, I was awarded a 2023 Nuffield International Farming Scholarship which will allow me to travel the world connecting the Lodi AVA to other farmers and scientists through sustainable viticulture topics. Since 2020, we have been working with colleague Don Shalvey and local school systems to develop viticulture and agritourism opportunities for the next generation – including crafting non-alcoholic value-added winegrape beverages to serve in Lodi tasting rooms.
What key personal and/or career experiences led you to where you are today?
A first generation college student, I earned an undergraduate degree in Chemistry from Wake Forest University, then a master's degree in Food Science and a PhD in Plant Pathology for wine studies from the University of Georgia (2016).
As soon as I stepped into a vineyard for the first time in 2009, I fell in love and knew that I wanted a sustainable career in a vineyard. Now I support thousands of vineyards and am the Director of a Sustainable Winegrowing Program. When I mentor people interested in a wine industry career, which happens frequently, I always tell them to be careful what they wish for!
What advice would you give to Wake Forest graduates about developing their personal life habits after college (finances, health, values, work/life balance)?
Always make sure that you are taking good care of yourself, mentally and physically, and enjoying life. It really is a gift to be alive right now and have access to so many opportunities, delicious food and wine, and majestic views. Take time to see a sunrise and sunset whenever you can.
We know that relationships are important for any kind of development. How do you build and maintain your network?
We work hard and play hard together. 750 farming families pay my salary and I love them. I talk to growers every day and adore spending quality time with them and their children. There is no separation here. We're also having a lot of fun developing our relationships with scientists and researchers. The growers and I "wine and dine" scientists just like you would customers. Last year, we hosted a beach bonfire to help growers and scientists network, and one researcher said, "This makes me want to do more science!"
What advice would you give to current Wake Forest students and/or young alumni who are interested in working in your industry?
Every single type of job you can imagine is likely relevant to the wine industry. We need accountants, graphic designers, agronomists, entrepreneurs, mechanics, engineers, lawyers, and more. Come to Lodi, find me, and we'll get you connected.
What's next for your career? What future goals or plans are you pursuing?
I love connecting winegrowing families to the resources they need to farm to their full potential. It's such a feel-good, rewarding career. Every single day is different. I could be out in a vineyard trying to solve some viticultural mystery – which happened, by the way, and we even named a new disease, the sudden vine collapse. Or I could be sitting down with an 81 year old man learning about biochar on YouTube. Writing a blog post on sheep in vineyards. Pouring sustainably-produced wine for the King's Coronation Celebration at the Grace Cathedral in San Francisco. Reading about plant immunity. Releasing beneficial insects on a quad with an organic farmer at sunset. Always, smiling and full of ideas. My dream is to create a farmer-led international sustainable viticulture center based in Lodi, where kids learn alongside growers who at the same time conduct research with scientists, and the most resilient, biodiverse vineyard imaginable is planted.
Story published in August 2023. For current updates about Stephanie, visit her Linkedin.