Scott Mannear (BA 2007 in English, Chinese minor)
Match Play Brands, VP Operations in Atlanta, GA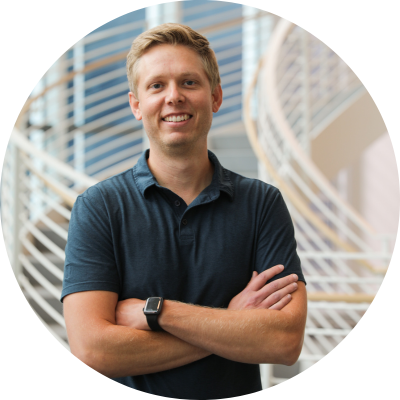 Tell us about your current job role/employer and what you're currently working on.
Match Play Brands is a digitally-focused house of brands, which is currently managing two consumer packaged goods companies: PCKL, which is a performance pickleball product company and Piper Golf, which is focused on delivering tour-quality golf balls at amateur prices. As VP of Operations, I oversee buying, forecasting, fulfillment, financial forecasting/modeling, and other assorted business operations tasks, including HR occasionally.
What personal and/or career experiences did you have prior to landing your current job and leading to where you are now?
Before my time with Match Play Brands my entire career was actually in the video game space. After getting my MA in 2010 I was fortunate enough to discover that Electronic Arts had opened a brand new facility in my hometown of Baton Rouge. Through connections with friends from home, I was able to get my foot in the door with an interview for a staffing position and eventually worked my way up to managing operations for the facility. In 2013 I moved with my wife (08' Wake graduate too!) to Atlanta, where I discovered a local, (then) small brand called KontrolFreek, which was focused on building a brand around their video game accessory products. I bothered the CEO almost daily for three months until he offered me a position running operations for KontrolFreek. Six years later KontrolFreek was acquired by SteelSeries, and I spent my time during the pandemic working through the acquisition and integration process. As with most acquisitions a majority of the KontrolFreek team left pretty early on, and our former VP of Marketing launched Piper Golf after his departure, which eventually became Match Play Brands. The goal from the beginning with Match Play Brands was to get the KontrolFreek family back together and take on new challenges in the digital marketing space, and I was fortunate enough to come on board at my current position in the summer of 2022.
What was the most challenging aspect of your first "real world job" and what did you learn from it?
I think the most challenging part of any first career job out of school is getting used to new routines, environments and expectations. After being in school your whole life, making the adjustment from a relatively self-directed, dynamic environment to a more static 9-5 "grind", is difficult. Is this what being an adult is like? But over time you find your opportunities and challenges in your career, and it becomes a new chapter of your growth.
What advice would you give to new Wake Forest graduates about developing their personal life habits after college (finances, health, values, work/life balance)?
Regardless of your field, you will likely be asked to work unreasonable hours in your first job. This is your opportunity to make a mark and kick off your career. Put in the work, but develop and commit to your work boundaries. Your personal life and mental health should always be your priority. You will feel overwhelmed, but you have more time now then you ever will again to develop good work/life habits. Make it a priority to maintain your physical health, relationships, and personal hobbies.
How have you made personal and professional relationships in your city, company, or community?
I'm not the type to network or intentionally seek out connections, but it is very important. Early in my career I started and ran a couple of volunteer organizations around my interests, and this was an amazing way to make connections with folks who share the same passions that you do. Additionally, I've always felt that working with a team you enjoy being around day to day is a must. At KontrolFreek, we intentionally built a team that was full of people that we loved to be around day to day. Those relationships have lasted, and now I'm still working with a lot of those folks 10 years later.
Have you been mentored by anyone at Wake Forest or in your professional life? If so, what impact has that relationship had on you?
There have been a few folks who have mentored me throughout my career, and they have all been paramount in my success. Most recently the CEO for KontrolFreek, Ashish Mistry, has had the largest impact on my career. Since 2013 he has constantly been helping me to develop my career and network. He has provided a wealth of business knowledge and experiences and is always willing to help and provide guidance both in and out of the office.
What advice would you give to current Wake Forest students and/or young alumni who are about to start their first professional job?
Your first job out of school doesn't need to be perfect. In fact, it doesn't even need to be related to your field of study. Any job you work will provide you with lessons and relationships that are invaluable to your future career. Work hard and make an impact, and there will always be opportunities.
What are your future career goals or plans? How are you being intentional about working towards them?
My current focus is to build another sustainable business and work environment for Match Play Brands. More narrowly this goal involves being vigilant day to day about the choices made regarding not only revenue and profit, but also regarding culture and team building to ensure that we are all taking the right steps to build the foundations of a successful organization.
Story published in June 2023. For current updates on Scott's career path, visit his LinkedIn profile.