Olivia Wolff (2016, BS in Health and Exercise Science)
Brand and Wholesale Manager at Bevana Partners and Co-Founder of UpDog Kombucha in Charlotte, NC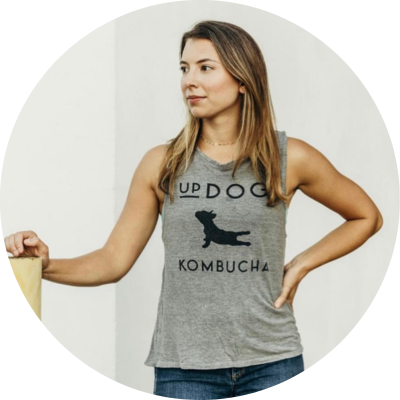 Tell us about your current job role and employer. What are you currently working on?
The brand that I founded at Wake Forest in 2016, UpDog Kombucha, was acquired by Bevana Partners in 2021. I work for them now, mostly managing our wholesale partners, leading product development, and working on sales and marketing initiatives with larger chain off-premise accounts.
What key personal and/or career experiences led you to where you are today?
Owning (and exiting) my own business at such a young age definitely taught me many valuable lessons–lessons in communication, expectations, how other people operate, how to negotiate effectively, and many more. There are so many challenges that come with the territory of being a small business owner, but it mostly is an experience in learning how to balance many plates at once.
What is the most challenging aspect of your job? How do you navigate that challenge?
One of the most challenging parts of my job currently is trying to achieve communications with the right person. It might seem like trying to find the right contact at a grocery chain wouldn't be that hard, but it is in fact a full time job trying to manage wholesale and retail partners!
What advice would you give to Wake Forest graduates about developing their personal life habits after college (finances, health, values, work/life balance)?
I would tell WFU grads not to settle for a job out of school that you know will make you miserable. Life is too short to not be doing something that you at least find interesting and gives you an opportunity to grow.
We know that relationships are important for any kind of development. How do you build and maintain your network?
My WFU network has remained very important to me, despite being almost 7+ years post-grad. In my experience, Demon Deacons love to help other Demon Deacons, and so I go out of my way to network with folks who share the WFU alma mater. Personally, if I hear of a small business owner who went to Wake, I am eager to support them in whatever way that I can. I think these types of relationships, especially between business owners, are extremely valuable and it ultimately helps to maintain a connection with your target market!
Tell us about your mentoring relationships. What impact have these relationships had on your career and life?
I have had a number of excellent mentors from all phases of my life, including professors and peers from my time at Wake. Additionally, I feel very lucky to have assumed the role of Mentor to a small group of entrepreneurs and business owners as well.
What advice would you give to current Wake Forest students and/or young alumni who are interested in working in your industry?
The beverage industry can be tough, but if you have a concept for a product that is unique and fills a hole in the industry, catch the wave and ride it! There is a lot of competition, but the pie is always growing and there's always a spot for innovative products and brands.
What's next for your career? What future goals or plans are you pursuing?
I'm not sure yet what the future holds for me, but I'm interested in adopting a role that is more geared toward Marketing rather than Sales. I feel this is where my strengths and skills really shine, and I'm looking forward to the opportunity to grow more in that direction.
Story published in August 2023. For current updates about Olivia, visit her LinkedIn page.