Lauren Luneckas (2009, BA in Communication)
Executive Director at The Children's Museum of the Upstate in Greenville, SC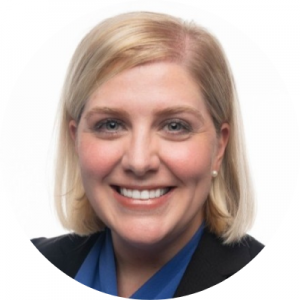 Tell us about your current job role and employer. What are you currently working on?
I am currently the executive director of The Children's Museum of the Upstate (TCMU) in Greenville, SC. My core responsibilities center on driving the strategic direction of our organization, working closely with our Board of Directors, advocating for our organization and our industry, and ensuring our talented and creative team members have the resources they need to be successful. We strive to create a community of compassionate problem solvers through intentional and inclusive play, and my job is to ensure we are consistently delivering on that mission.
What key personal and/or career experiences led you to where you are today?
I've heard it said that some careers are ladders and others are jungle gyms, and mine has certainly been the latter! I do not have a museum background but am extremely grateful for the ways my professional experiences and personal passions have aligned in my current position. I began my career as a Fellow in Wake Forest's Office of Advancement and from there spent over a decade in the corporate world in various sports marketing, communications, and management roles. I discovered I had an aptitude for business and a tremendous interest in organizational management. Outside of work, I was consistently volunteering my time in support of early childhood education efforts. It was good fortune that the (unexpected!) opportunity to combine my professional interest with my personal passion presented itself, but I am proud that I recognized that moment and was courageous enough to pursue what was, on paper, an extremely unconventional career move.
What is the most challenging aspect of your job? How do you navigate that challenge?
Leadership can be lonely. As the senior leader in my organization, I do not have an internal peer network to rely on. Overall my work is incredibly fulfilling, but by its very nature, the role can be taxing, and at times, isolating. I think it is critical to find trusted mentors who provide valuable guidance and much needed perspective. It is also hugely helpful to connect with peers at other organizations with whom you can collaborate, ideate, and, occasionally, commiserate. Industry associations can be wonderful starting points for this type of networking.
What advice would you give to Wake Forest graduates about developing their personal life habits after college (finances, health, values, work/life balance)?
I adore the Moravian motto, which I first learn at a Wake Forest Lovefeast: "In essentials unity; in non-essentials liberty; and in all things love."
I try to apply this philosophy to all aspects of my life – personal and professional. Deciding early what your personal essentials and non-essentials are will help to prioritize your time and resources and build your habits in ways that best serve you. It's okay if your essentials don't look like someone else's – in fact they probably won't, and arguably shouldn't. Design a life that works for you and then use those essentials as your own North Star. And, importantly, give yourself grace through your growth and life's ebbs and flows. "In all things love," applies to how you should treat yourself, too.
We know that relationships are important for any kind of development. How do you build and maintain your network?
Building and maintaining relationships takes intentionality. As my career has grown so too has the "busy-ness" of my daily calendar. To ensure this doesn't inhibit my relationships, I plan early and often to connect with my network by blocking time on my calendar for in-person gatherings, virtual meetups, or phone calls. I treat these as I would any meeting and do everything in my power not to reschedule them. The investments I make in relationships have shown considerable returns time and time again. Prioritize this time, and I am confident you will not regret it. I never have.
Tell us about your mentoring relationships. What impact have these relationships had on your career and life?
Mentors are such a gift, and I have been fortunate in ways that humble me to have had consistent mentorship from leaders I deeply admire during my career. My mentors have challenged me, comforted me, gently nudged me, and sometimes not-so-gently pushed me outside of my comfort zone. They help me make sure my own essentials remain at the forefront of my work and life, and, perhaps most importantly, they have shown me possibilities about what I could pursue, accomplish, and achieve that may never had occurred to me without them. One of my deepest desires is to, in time, provide to others what my mentors have provided to me. It is too great a gift not to pay forward.
What advice would you give to current Wake Forest students and/or young alumni who are interested in working in your industry?
Stay curious and in a perpetual state of learning! The museum industry in general, and children's museums in particular, require a continual sense of wonder. It is very well-suited for liberal arts students in so many ways. While there are certainly exceptions, for many roles in our industry there is no prerequisite course of study. It is an industry that welcomes versatile backgrounds and wide-ranging experiences and perspectives.
Are you an accounting major who adores early childhood education? Great! An early childhood education student who cannot quite envision yourself in a traditional classroom setting? Awesome! A theatre major? Fantastic! Or a communication major, like me? Wonderful! These are just some of the backgrounds that lend themselves well to children's museums.
I encourage any student interested in this line of work to volunteer or intern at a museum. Experience the world of museums and look for roles that resonate most with you. As you better define your interests, you will find better and better contacts and increasingly more specific feedback to help you achieve your goals. If an immersive experience is not available to you, simply talk to/Zoom/email/LinkedIn as many museum professionals as you can. I have found this industry to be wildly collaborative and supportive of young talent. What a benefit to you – capitalize on that!
What's next for your career? What future goals or plans are you pursuing?
I have always loved learning and desired to lead people and solve problems. I feel incredibly fortunate that my current role allows me to do each of these things daily, and I am certain that these will always be central to my work.
At TCMU one of our six core values states, "We are compassionate problem solvers." My current focus is on leading well and relentlessly tackling challenges in my community and for my internal team in a caring and compassionate manner. There is so much important and exciting work ahead of us. I am grateful to see a Pro Humanitate-filled future in my current role that allows for continued personal growth and development in service of others.
Story published in July 2022. For current updates about Lauren, visit her LinkedIn page.