Juliet Kuehnle (2006, BA in Sociology with minors in Music and Women & Gender Studies)
Mental Health Therapist / Founder & Owner of Sun Counseling & Wellness in Charlotte, NC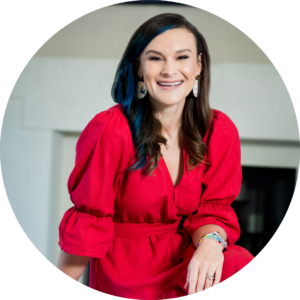 Tell us about your current job role and employer. What are you currently working on?
After doing agency work and working with a group practice, I went out on my own three years ago. I now run a group practice with eight therapists, a dietitian, and an integrative wellness provider. Along with running the practice, I still see individual clients. I also serve as a mental health consultant, frequently appear on local media, podcast host (Who You Callin' Crazy?!), have two magazine bylines, and just finished my first book. I try to show up anywhere and everywhere to further my mission of ending the stigma and normalizing and elevating the dialogue around mental health.
What key personal and/or career experiences led you to where you are today?
I've been on "both sides of the couch." I first went to a therapist when I was about eight years old and I still go today. Being a therapist who goes to therapy is what bolsters my brand because I'm human first and growing and evolving alongside everyone else. I'm also thankful that in my early career I worked at an eating disorder treatment center and on a college campus to get lots of varied experience.
What is the most challenging aspect of your job? How do you navigate that challenge?
Whew, it can all certainly be really heavy. I hold space for people's emotions and parts of their stories that can be really intense or they may have never told anyone. I've had to get really good at my own self-care and boundaries so that I'm not carrying the heaviness around. For the most part, I'm successful at this, but when my own reserves are low, I'll notice that I'm "taking work home" and need a reset.
What advice would you give to Wake Forest graduates about developing their personal life habits after college (finances, health, values, work/life balance)?
My biggest advice is to acknowledge and admit that you have mental health that deserves your attention. We all do. Just like we take care of our physical health by going to an annual visit or calling the doctor when we suffer an injury, we also need to be proactive in treating our mental health. Therapy is one way to ensure we're taking care of this part of our selves. There's no wrong time for therapy. People can go when they're in crisis or when they're just curious about living more fully or deepening relationships…and everything in between.
We know that relationships are important for any kind of development. How do you build and maintain your network?
Relationships are everything. How the client perceives the quality of the relationship with their therapist is the number one predictor of success in therapy. It's also incredibly important that I, as a therapist, am in consistent communication with other providers on a client's treatment team. I make a lot of effort to get to know other providers on a deeper level so that we can all stay on the same page. It's also crucial that those of us in the mental health community have healthy connections so that we can support each other. This support sometimes looks like a pep talk, having someone else understand what you're experiencing, giving names of referral sources, and just cheering each other on because we're all on the same mission.
Tell us about your mentoring relationships. What impact have these relationships had on your career and life?
I have loved my mentors and I love being in the mentor role. I often refer back to my time in Maya Angelou's class my junior year at Wake. The ultimate mentor whose words and safe space remain with me. I have so many people I look up to and respect. It keeps me motivated and inspired. I also strive to be a leader who is approachable and helpful however I can be. It wasn't that long ago that I was a newbie in this profession, too, and the need for mental health support is so great in our country that it feels imperative I encourage others in it, as well.
What advice would you give to current Wake Forest students and/or young alumni who are interested in working in your industry?
Do it! It's the coolest job in the world. I cannot believe people let me into their lives and their stories and that I get to walk with them in their journey to healing, growth, and balance. There's never a boring day and it's so humbling and rewarding to do what we do. There is also so much room to be creative in this field and truly make a difference.
What's next for your career? What future goals or plans are you pursuing?
I'm excited for my first book to be published! I hope it will lead to even more speaking opportunities. I also simply plan to continue focusing on nurturing our amazing practice so it can continue being an asset in our community.
Story published in March 2023. For current updates about Juliet, visit her LinkedIn page, her website, and follow her on Instagram. You can also learn more about her book coming out this May 2023 here!