Daniella Feijoo (2019, BA in Politics and International Affairs with a minor in Latin American and Latino Studies)
Assistant Director for Leadership Development & Community Engagement at Northwestern University in Evanston, IL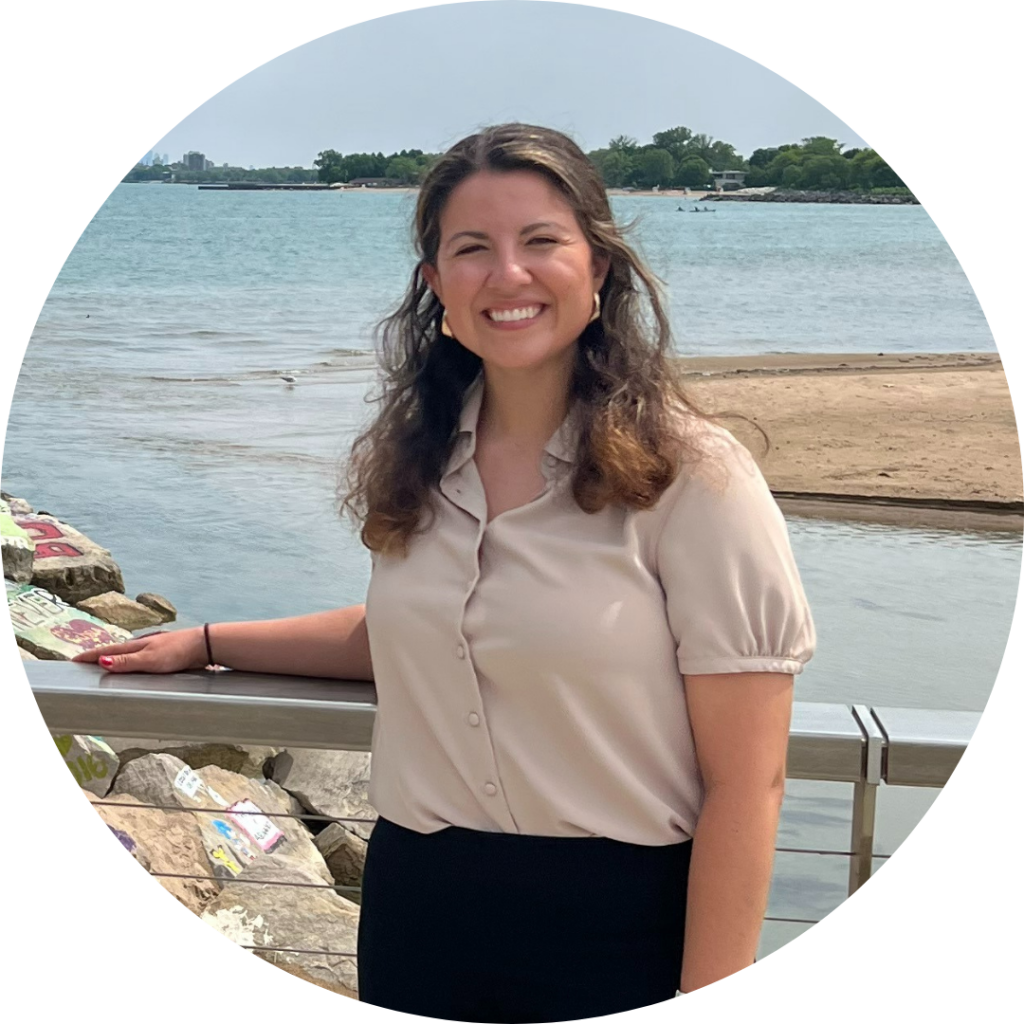 Tell us about your current job role/employer and what you're currently working on.
I serve as the Assistant Director for Leadership Development & Community Engagement in Campus Life at Northwestern University. In my role, I work with students, faculty, and staff to collaboratively utilize Northwestern University's Leadership Framework in our program offerings, leadership retreats/sessions, and community engagement opportunities. I also coordinate a program called Leadership for Racial Equity which provides opportunities for NU undergraduate students to learn about grassroots racial equity efforts and to grow and apply their knowledge and lived experiences through hands-on community engagement initiatives focused on racial justice through intentional community partner projects. I coordinate the Community Engagement Coalition, convening all student-led organizations committed to local civic engagement and community service. I serve as staff support for our Grounding for Public Service weekly club where we work to cultivate a culture of thoughtful/engaged citizens rooted in community while fostering a sense of connection to Evanston/Chicago neighbors. Additionally, I am supporting our Alternative Spring Break program, a week-long program for undergraduate students in Chicago that focuses on social justice education, direct service, reflection and community building.
What personal and/or career experiences did you have prior to landing your current job and leading to where you are now?
Prior to this role, I completed my M.S. Ed. in Higher Education and Student Affairs at Indiana University Bloomington and also pursued a graduate certificate in Philanthropic Studies. Through this experience, I also worked in IUB's Student Involvement & Leadership Center where I worked closely with student leaders in the Cox Civic Scholars program – this was the greatest joy of my past 2 years! These scholars, most of whom are first-generation, low-SES students, are paired with local nonprofit organizations and engaged in incredible community engagement work throughout their time at the institution. Connecting with students at IUB, leading workshops on leadership, career development, social justice issues, and working alongside community partners, gave me purpose and filled me with so much joy which I now carry with me into my role at NU!
What was the most challenging aspect of your first "real world job" and what did you learn from it?
I would say the global pandemic was most definitely the most challenging part of my first role because I had just transitioned to a new, large, Big Ten institution, and we were operating completely virtually with the scholarship program my role was associated with coordinating programming for. However, I was and will forever be amazed at the resilience of all of the students I worked with through that journey. Each one of them are phenomenal leaders and citizens and inspire me every single day.
What advice would you give to new Wake Forest graduates about developing their personal life habits after college (finances, health, values, work/life balance)?
Find a cause you deeply care about and get involved with an organization that works on that issue as a way of giving back to your local, national, and/or global community. Also, I would recommend hosting people at your place and/or gathering at a local coffee shop! Whether it is a movie watching evening or a dinner party, inviting folks to your place and building a ritual experience to gather is such an amazing way to build community and expand your circles.
How have you made personal and professional relationships in your city, company, or community?
I have been intentional about staying connected with alumni chapters from both WFU and where I completed my master's degree at IUB. I coordinated a WakeChicago Hit the Bricks gathering this year that I hope will live on for many years! By nature of my professional role, I also have the opportunity to continually meet community members working in the city, leading nonprofit organizations, teaching in the local school districts, etc. which has been incredibly rewarding and helpful in building a sense of belonging.
Have you been mentored by anyone at Wake Forest or in your professional life? If so, what impact has that relationship had on you?
My supervisor Niki Messmore at my practicum experience in graduate school through the Indiana University School of Medicine is my greatest mentor. Niki has a person-centered, equity-focused leadership style that I admire and she has guided me through research, personal and professional hurdles, and has been an inspiration to me in how she centers community voice and marginalized student voices in her work at the medical school. Additionally, my professor Dr. Cindy Ann Kilgo, took me under their wing, and supported me in crafting research proposals, connecting me to folks in the field, and discovering/refining what it looks like to center wellness and radical self-compassion in life both personally and professionally.
What advice would you give to current Wake Forest students and/or young alumni who are about to start their first professional job?
Be your authentic self in every aspect. Find a group of trusted, supportive, loyal mentors from unique walks of life who you can ask for advice and who you can be in community with (either physically and/or virtually). Also, 100% make a concerted effort to get to know your local community (i.e. volunteer at a community center/nonprofit, attend community-centered events, and learn about the history of the place you live and work in. You will feel grounded and loved.
What are your future career goals or plans? How are you being intentional about working towards them?
My future career goals include pursuing a PhD in Higher Education in Chicago and one day serving as the Director of a First-Generation program or office at a college or university. I continue to work closely supporting first-generation students through my role at Northwestern University as well as furthering research I started with peers during my graduate school experience.
Story published in October 2022. For current updates on Daniella's career path, visit her LinkedIn profile.