The decision to come out as a member of the LGBTQ+ community in the workplace is a very personal one. There are many factors to consider; Does your organization have an inclusive, friendly, and ...
Categories: communication, community, create community, culture, diversity, human resources, inclusion, LGBTQ, values, voice, work strategies, young professional
By Tiffany Waddell Tate ('07, MA '11), CEO/Founder of Career Maven Consulting
Tiffany Waddell Tate is a career coach & professional development consultant, passionate about helping others ...
By Ed Southern ('94)
Ed Southern is in his tenth year as Executive Director of the North Carolina Writers' Network, a statewide organization dedicated to connecting, educating, promoting, and ...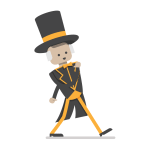 Load More
Get Expert Advice
Let us help you navigate your personal and professional life after Wake Forest. Hear from various experts including fellow Wake Forest alumni, faculty, staff, and many others!