By Lauren Beam ('07), Associate Director, Mentoring and Alumni Personal & Career Development, at Wake Forest University
Whether you are searching for your first job out of college, or have been in the same career field for many years and are now looking for a change, it can feel overwhelming to know where to begin. Regardless of where you are at in the process, here are four tips for jump-starting your job search
1- Determine your job target. Before launching your search, it is vitally important that you be as clear and specific as possible about what you're looking for. Begin by writing down your job target, which entails identifying your desired location, industry/field, and job role.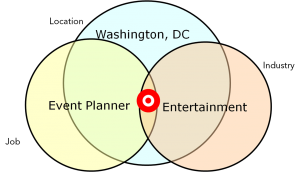 For example, simply stating that you are "looking for a job in public policy" is not nearly as defined as stating that you are "looking for a volunteer engagement/coordinator position within a non-profit focused on public policy related to education in Washington, DC." See the difference? A clear job target will be useful when researching companies, conducting online searches, and most importantly, when networking with people in your desired field. Your ability to articulate what you are seeking gives your networking contacts the confidence to put you in touch with their own connections.
Struggling to determine your job target? Talk to a mentor, past supervisor or colleague, family member, or friend to begin gaining clarity around your interests, skills, and strengths. People who know you well may see qualities in you that you have not already identified within yourself.
2 – Update your marketing documents. If you know that you're planning to apply for new positions and share your resume with networking contacts, make sure all of your career documents are up-to-date. These documents include your resume, cover letter templates, LinkedIn profile, and possibly letters of recommendation. Use clean and concise formatting, check for grammatical or spelling issues, and target the type of job or industry in which you are seeking (see point #1 above!). Ask a mentor, peer, colleague, or friend to review your documents before using them on applications or sending to contacts.
3 – Build and explore your network. Why network? Approximately 70-80% of jobs are found via networking and making personal and professional connections rather than blindly applying for job openings online. Many employers already have several candidates in mind, through referrals, before even posting an open position. Before filling out any applications, consider who is currently in your network and where there may be gaps that you need to fill to assist you in your job search.
Chances are you already have many great professional connections from being a student at Wake Forest, from past internships and extracurricular or volunteer experiences, and through other personal and professional contacts. Reaching out to these "warm contacts," individuals who you already know, is a great way to start exploring your network for potential job opportunities. However, you will also want to make new connections, or "cold contacts," within the Wake Forest network and beyond using LinkedIn, WAKENetwork, and at in-person events.
4 – Identify job search tools. As you begin to search for and apply to job opportunities, you will want to identify which job search sites will be the most useful for what you are looking for (again, refer to point #1 about having a clearly defined job target!). Check out the following search tools to get started:
General Job Search Engines: Indeed.com and Career Shift (use alumni.wfu.edu email address to make a free account) are useful sites for finding a wide variety of job openings. You can also follow Twitter job hashtags for job leads.
Industry-Specific Sites: Identify sites dedicated to posting job opportunities for specific career industries (example: Idealist.org for non-profit jobs). You can find several industry-specific job search site recommendations here.
Company Sites: Most organizations will post job openings directly to their company's employment/HR webpages. With a clear job target in mind, make a list of organizations that fit your career interests and visit their sites for job opportunities.
Still have job search-related questions? Let us know!